Anthrogeek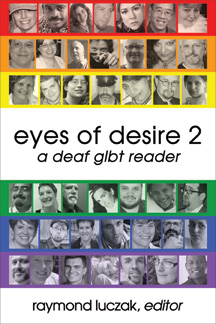 Jason Romero let me know of the publication of the new edition of a classic -- Eyes of Desire 2: A Deaf GLBT Reader.
This first edition of this book is one of my favorites to use in deaf studies and lgbt studies classes, so I'm glad there's an updated version. The new table of contents looks very interesting: "Black Deaf Lesbian Pagan Tomfemme," "Why I Wear Leather," "Evergreen in Ethiopia," "A Minority of One," "Hauntings," "Growing Up Deaf and Gay in 1960s Britain," "If I Met a Deaf Asexual," "A Leather Rose," "Couple #189," "My First Deaf Guy," "Darkness: Coming of Age in India," "You Sign Like a Girl," "I am a Deaf Hindu Lesbian," and "A Journey in Iran."
Definitely a must-buy. Amazon doesn't have it so you need to order it through the publisher: http://www.handtype.com/books/eod2/eod2.html ($20 + $3 shipping).