Leica Mount Lenses (M39 & M-Bayonet)
by Karen Nakamura
Other Classic Camera Lens Mounts
Contax / Nikon RF Bayonet Mount
Leica SLR R Bayonet Mount
Nikon F/Ai SLR Bayonet Mount
Canon FD/FL Breechlock Mount
Pentax Screw Mount (M42)
Overview and Personal Comments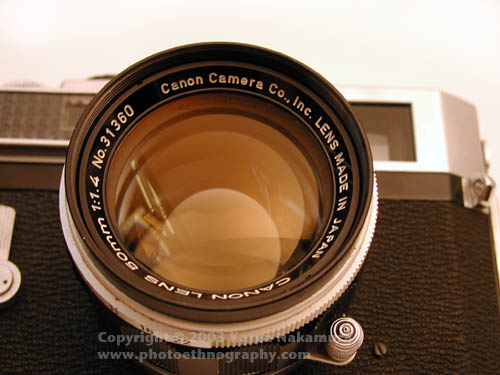 My first Leica-mount lens was a Canon P
, which started me on my collection of Leica screw mount (LSM, some people call it LTM for Leica thread mount) and Leica M bayonet mount lenses. Various companies have produced a wide variety of LSM and M mount lenses over the past sixty years, so I've quickly amassed a collection.
If you're looking for Leica R-mount SLR lenses, see my Leica R-lens page.
Leica-mount Cameras: I've since acquired a Canon 7 in addition to the Canon P, got a FED 3, Zorki 4K, and Shanghai 58-II for fun, and then bought a Leica M7 and Hexar RF for serious work. Rounding out my classic Leica collection were a Leica III, M2, M3, MD, Leica CL, and then a Konica Hexar RF. Note that for the Russian cameras, in most cases you'll need an auxilliary viewfinder for anything other than standard 50mm lenses.
I've now owned almost thirty Leica LSM or M mount lenses and have reviewed most of them. Click on any lens in the list below to get more detailed information about it:
| Wide Angle | Standard Screw Mount | Long Focus |
| --- | --- | --- |
| | | |
| Wide Angle M-Mount | Standard M-Mount | Long Focus M-Mount |
| | | |
---
Leica Screw Mount and M-Bayonet Mount Specifications
The LSM mount is technically an M39 x 26tpi screw mount, which means the width of the screw is a metric 39 millimeters but the screw pitch is an oddball 26 threads per inch, an imperial standard. The story is that Leica adopted this odd hybrid in order to confound other companies that might want to copy their mount system. Indeed, early Soviet lenses do have trouble mounting on Leica cameras because they assumed the thread was M39x1.0 (26tpi is about 0.976).
The flange-to-film (flange-back) distance is 28.8mm for Leica screw mount (LSM) and 27.95mm for Leica bayonet mount (M-mount) lenses. The throat size of the screw-mount is 39 mm while on the M-mount it is 44mm. This lets you use adapters to fit older screw-mount lenses onto newer M-bodies. Unfortunately, you can't go the other way and use M-lenses on screw-mount bodies.
The M-Bayonet mount was designed to improve several things over the screw mount. First, you can attach a bayonet-mount lens faster and more securely than a screw mount. Second, the throat of the M-mount is wider, allowing for larger rear elements. Third, one of the bayonet flanges is indexed, allowing automatic selection of the appropriate frameline (28/90, 35/135, or 50/75). Fourth, the minimum focusing range of the M-mount was brought down to 0.75 meters from a minimum of 1 meter on the M39. And fifth, the M-mount was designed with full backwards compatibility with M39 lenses using an adapter.
Variations: Konica calls the bayonet mount on the Hexar RF the "KM-Mount". Cosina calls the bayonet mount on its Bessa R2/R3 cameras the "VM-Mount." Zeiss calls their new Zeiss-Ikon camera 'ZM' mount compatible. In any case, they are all compatible with the Leica M-mount.
---
Series Filter Information
Before the current screw-in type filters were popularized by Japanese lens manufacturers in the 1970s, the de facto standard were "Series" type filter mounts. These involved threadless drop-in glass filters that were sandwiched between a screw-in or push-in type lens mount, and a retaining ring. You can see a Series VI filter mount & hood retaining ring combination on the Jupiter 8 50mm f/2 above.
Here's the info I have on Series filters. This is important for classic camera collectors as Series filters were used into the 1960s. I'm still trying to fill out this chart, so additional info is greatly appreciated!
| Series | Filter diameter | Thickness | Retaining ring thread |
| --- | --- | --- | --- |
| I | | | |
| II | | | |
| III | | | |
| IV | 20.8mm | 4.06 | 23mm |
| 4.5 | 25.4mm / 1" | | |
| V | 30mm | 4.31 | 34mm |
| 5.5 | 35.8mm | | 39mm x 0.75 (standard is 39x0.50) |
| VI | 41.3mm | 4.82 | 44mm |
| VII | 50.8mm / 2" | 5.33 | 54mm (mentioned in two places; 55mm mentioned in one) |
| VIII | 63.5mm | 5.58 | 60mm / 65mm (mentioned once each) |
| IX | 88.9mm | 5.58 | 82? 85mm? (not verified; 85mm mentioned twice) |
| X | | | 138mm (mentioned once) |
---
Lens Collection Martrix
---
On the Net